Memphis, TN: THEFT OF MAIL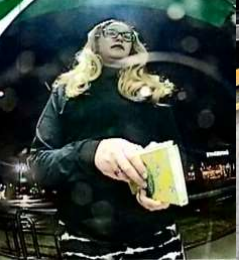 Reward up to $5,000
The suspect, pictured above, was described as a female with light complexion, a medium build, wearing glasses, with long blond hair (possibly a wig), and tattoos on her right forearm and bicep. The suspect's vehicle has been described as a white Chevrolet Express van.
The U.S. Postal Inspection Service is offering a reward of up to $5,000 for information leading to the arrest and prosecution of the suspect responsible for mail theft on the 2100 block of Spicer Cove, Memphis, TN 38134 on April 13, 2022.
TAKE NO ACTION TO APPREHEND THIS PERSON YOURSELF
If you have any information about this incident, please contact the: U.S. Postal Inspection Service at 1-877-876-2455 (say "Law Enforcement")
Reference Case No. 3746063-MT.
Report Now