Combating Illicit Drugs in the Mail
Winning the battle against illicit drugs in the mail is a top priority for the U.S.
Postal Service and the U.S. Postal Inspection Service.
Scroll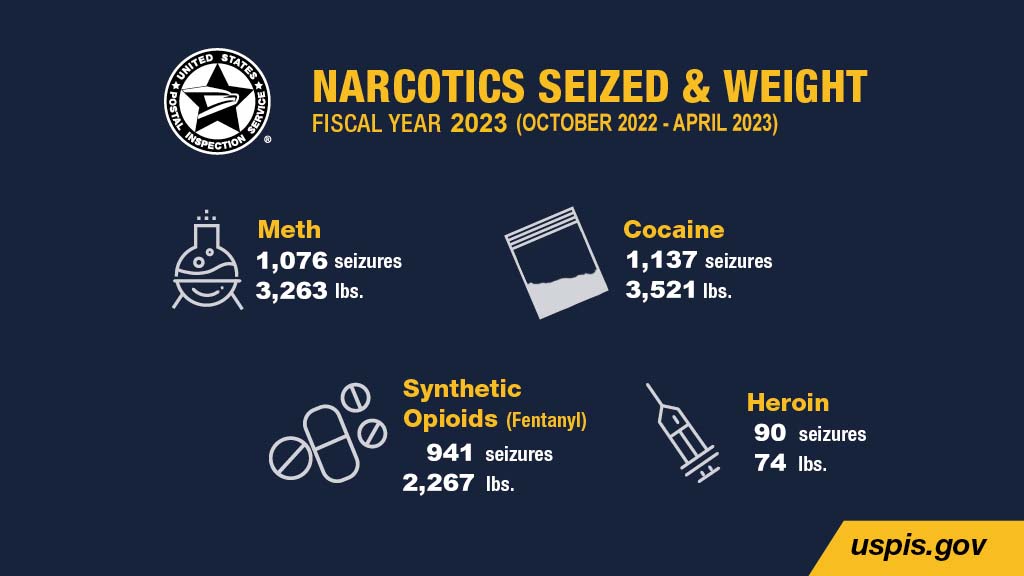 Partners
Postal Inspectors
Postal Inspectors across the country work every day to protect postal employees and the American public by leading the effort to eliminate drugs and contraband in the U.S. Mail, both foreign and domestic. This goal is achieved by prohibiting mail containing illegal items, investigating criminal activity, and dismantling the Dark Web which allows drug dealers to sell their goods through an internet connection.
State and Local Partners
During Fiscal Year 2020, the Postal Inspection Service created a standardized nationwide Task Force Officer (TFO) program. TFOs are typically state and local police officers who are embedded with Postal Inspectors to enhance advance interdictions and investigations by providing access to local intelligence and networks.
Federal Partners
The Postal Inspection Service collaborates with its federal partners, including the Drug Enforcement Administration (DEA), Customs and Border Protection (CBP), Homeland Security Investigations (HSI), the Federal Bureau of Investigations (FBI), and the White House's Office of National Drug Control Policy (ONDCP), in developing and implementing the National Drug Control Strategy. This strategy is used by the federal government to reduce the availability of these drugs in the United States through law enforcement and cooperation with international partners and eliminate the negative effects that drug trafficking has on the safety of the nation.
Global Partners
Postal Inspectors utilize multiple avenues to stem the flow of illicit drugs from entering the country through cooperation and coordination with foreign postal operators: the Universal Postal Union (UPU); the United Nations Office of Drugs and Crime (UNODC); the International Narcotics Control Board (INCB); and the European Union Agency for Law Enforcement Cooperation (Europol).
All In The Family
Following a year-long investigation led by Postal Inspectors in 2020, a mother and son duo were arrested and convicted for conspiring to ship approximately 8400 drug parcels containing an estimated 75 pounds of methamphetamine across the United States using the U.S. Mail. The drug and shipping operations were based out of Mary Jane McIntyre's Arlington, Texas apartment where her son, Sean Harris, operated as the Dark Web vendor, Meds4U. A package stamped with the name of a fictitious company thought to be a Dark Web narcotics vendor was legally searched by investigators. The contents  field-tested positive for meth and investigators traced the package, and several others in the course of the investigation, back to Harris. During a search of the apartment, authorities confiscated distribution quantities of meth, packaging and shipping supplies, scales, and a large sum of cash hidden in bundles behind pictures on the living room wall. Both pled guilty to possession of a controlled substance with intent to distribute and were sentenced to a combined 18 years in federal prison.
Repeat Offender
A police canine in a Kansas City, MO mail processing center alerted to the presence of illegal drugs inside a package that had been identified as suspicious by a Postal Inspector. The parcel was addressed to the residence of Victor Rodriguez Kessel, 65, but under a different name. When law enforcement delivered it to Kessel, he gave consent to open in it, where it was found to contain approximately 274 grams of powder cocaine. Kessel also gave consent to have his residence searched, where officers found a revolver handgun and 467 grams of cocaine and marijuana. When Kessel withdrew his consent, officers returned with a search warrant and found an additional 232 grams of powder cocaine, crack cocaine, and marijuana; as well as a semi-automatic handgun and a large amount of cash, some of which was in a locked shed in the backyard used as a marijuana grow house. Under federal law, it is illegal for anyone who has been convicted of a felony to be in possession of any firearm or ammunition. Kessel has seventeen prior felony convictions involving illegal drugs and firearms, burglary and grand theft. For the convictions of drug trafficking and illegally possessing a firearm in this case, Kessel was sentenced to 15 years in federal prison without parole. The court also ordered Kessel to forfeit to the government $82,000 seized by law enforcement, and his residential property which he maintained for manufacturing/distributing illegal drugs.
All Fingers Point To…
Postal Inspectors in Savannah, Georgia seized a parcel containing approximately $269,335 in cash destined for a hotel in Houston, Texas. The USPIS Forensic Lab was able to extract a fingerprint from a CD case inside the parcel which came back to OMARO JAJUAN GRIFFIN, AKA Omar Griffin. Based on that fingerprint, USPIS and DEA began their investigation and seized approximately 25 kilograms of cocaine, 30 pounds of marijuana, two pounds of MDMA, $900,000 in cash and more than 20 firearms. Fourteen defendants were indicted; 12 -including GRIFFIN – pled guilty and were sentenced to federal prison. GRIFFIN received a 20-year federal sentence, and must serve 10 years of Supervised Release, which is the statutory maximum penalty that could be imposed by the Court.
Addiction Help
The mission of the Inspection Service is protecting the public and the U.S. Mail from illicit drug activity. USPIS is also committed to crime prevention and victim assistance. If you or someone you know is in need of addiction treatment, please contact the National Helpline:
1-800-662-4357 (1-800-662-HELP)
samhsa.gov

Find treatment near you:
FindTreatment.gov

More resources:
hhs.gov/opioids
Report a Crime
If you know someone who's mailing illegal drugs or has received them, alert Postal Inspectors.
Call Postal Inspectors at 1-877-876-2455