Memphis, TN: ASSAULT OF A POSTAL EMPLOYEE AND DESTRUCTION OF...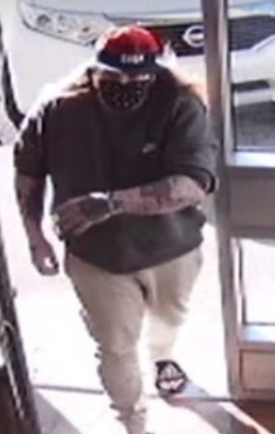 Wanted
The suspect is described as a white male, approximately 5'7 tall, long brown/dark hair, 260 lbs., with multiple tattoos on both his arms and his hands, wearing a black and red baseball cap, a black Nike sweatshirt, khaki pants and sandals
The U.S. Postal Inspection Service is seeking information leading to the arrest and conviction of the suspect who assaulted a United States Postal Service (USPS) employee and damaged USPS property at Colonial Finance, 4695 Southern Avenue, Memphis, TN 38124 on January 26, 2022, at approximately 3:30 P.M.
TAKE NO ACTION TO APPREHEND THIS PERSON YOURSELF
If you have any information about this incident, please contact the: U.S. Postal Inspection Service at 1-877-876-2455 (say "Law Enforcement")
Reference Case No. 3191248.
Report Now