Christine Chambers for furnishing, selling marijuana.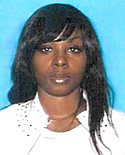 Reward up to $5,000
Christine Marie Chambers
1751208-PMN
Jamaica
Christine Holka, Tracy Holka, Tracy Roth
Female, black, 5'04," 120 lbs., black hair, brown eyes.
Furnish, sell marijuana, HSC 11360(A)
W211995132
256KC3
XCNBA36679201, California
CHAMBERS is wanted by Postal Inspection Service LA Parcel Task Force (USPIS/LAPD). CHAMBERS may be extradited. She may be travelling with an elementary age male child, who is her son.
TAKE NO ACTION TO APPREHEND THIS PERSON YOURSELF
If located, please call the U.S. Postal Inspection Service at 1-877-876-2455 (press 2).
Report Now