Yacine El Bouri for Multiple Crimes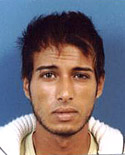 Reward up to $10,000
Yacine El Bouri
1179-1568743-IF(1)
08/05/1982
Maybe born in France or Morocco
Elie, James Banks
White male, 6'1" 150 lbs, black hair, hazel eyes
18 USC 1341, Mail fraud 18 USC 1029, Unauthorized use of access devices 18 USC 1344, Bank fraud 18 USC 1956/1957, Money laundering 18 USC 2, Aiding and abetting
None Available
N/A
Central District of California, SACR 06-117
El Bouri is a French national and speaks fluent French. He was last known to be in Miami Beach, FL, but may now be in France. He has CA driver's licenses in the names of Yacine El Bouri (#D4660988) and James Banks (#A9839698).
TAKE NO ACTION TO APPREHEND THIS PERSON YOURSELF
If located, please call the U.S. Postal Inspection Service at 1-877-876-2455 (press 2).
Report Now