Washington, DC: POST OFFICE BURGLARY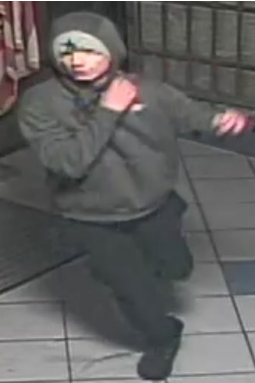 Reward up to $10,000
The suspect appears to be an adult white male of average height and build. The suspect was wearing a light-gray beanie hat with a blue star, a dark-gray hooded sweatshirt, black pants, and black sneakers.
The U.S. Postal Inspection Service is offering a reward of up to $10,000 for information leading to the arrest and conviction of the suspect who broke into the Post Office located at 1563 Maryland Avenue NE, Washington, DC 20002. The incident occurred at approximately 8:51 p.m. on January 1, 2023.
TAKE NO ACTION TO APPREHEND THIS PERSON YOURSELF
If you have any information about this incident, please contact the: U.S. Postal Inspection Service at 1-877-876-2455 (say "Law Enforcement")
Reference Case No. 3941263.
All information will be kept strictly confidential.
Report Now