Tomo Razmilovic for Multiple Crimes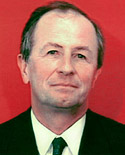 Reward up to $100,000
Tomo Razmilovic
1144-1366960-FC(1)
Split, Croatia
5' 11", 205 lbs., gray hair, blue eyes
Conspiracy to commit securities fraud, 18 USC 371. Thirteen counts of securities fraud, 15 USC 78j(b), 78m(a) and 78ff.
W306000777
Issued on May 28, 2004, by U.S. District, Eastern District of New York, Brooklyn, NY
Photograph taken September 1994
TAKE NO ACTION TO APPREHEND THIS PERSON YOURSELF
If located, please call the U.S. Postal Inspection Service at 1-877-876-2455 (press 2).
Report Now