Tampa, FL: ROBBERY OF USPS LETTER CARRIER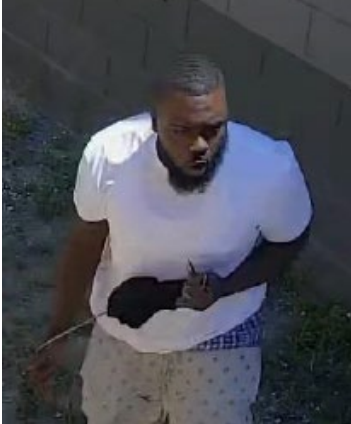 Reward up to $50,000
The suspect (pictured above left) is described as a Black male, approximately 25 to 35 years of age, approximately 6' tall, approximately 250 pounds, with short black hair, a beard, wearing a white t-shirt, khaki shorts, and camouflage Crocs with black socks. The suspect was seen fleeing the area in a white U-Haul cargo van bearing an Arizona license plate beginning with the letters "AL."
The U.S. Postal Inspection Service is offering a reward of up to $50,000 for information leading to the arrest and conviction of the suspect who robbed a United States Postal Service (USPS) letter carrier at the Whittier Shopping Center, located at 5101 E. Busch Blvd, Tampa, FL 33617 at approximately 12:13 p.m., on Monday, May 15, 2023.
TAKE NO ACTION TO APPREHEND THESE PERSONS YOURSELF
If you have any information about this incident, please contact the: U.S. Postal Inspection Service at 1-877-876-2455 (say "Law Enforcement")
Reference Case No. 4036746
All information will be kept strictly confidential.
Report Now