Sonata Bastien for Mail Fraud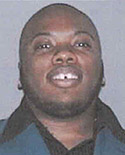 Wanted
Sonata Bastien
1676199-MF
11/07/1980
Massachusetts, USA
Sean Chase
African-American, transgender, 5'5", 150 lbs.; black hair, brown eyes.
Mail Fraud, 18 USC 1341
W252 156 419
953754FB4
11-cr-10060-MMG, 02/17/11, District of Massachusetts
Birth name is Sonata Bastien, but uses the name Sean Chase. Person is transgender (female to male). Last known to be residing in NY or NJ. Still has family and connections in Boston.
TAKE NO ACTION TO APPREHEND THIS PERSON YOURSELF
If located, please call the U.S. Postal Inspection Service at 1-877-876-2455 (press 2).
Report Now