Buckeystown, MD: Seeking Information About Robbery of Post O...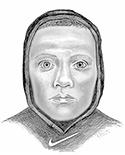 Reward of up to $50,000
Black male, mid-20s to early 30s, 6 feet tall, thin build, and clean shaven. He was wearing a dark-colored hooded sweatshirt, dark-colored backpack with a light-colored emblem (possibly a Nike Swoosh), blue jeans, and dark-colored shoes. The suspect was also wearing a large gold ring on his left hand and was possibly armed with a handgun.
"The U.S. Postal Inspection Service is offering a reward of up to $50,000 for information leading to the arrest and conviction of the suspect who robbed the U.S. Post Office, 4001 Buckeystown Pike, Buckeystown, MD. The robbery occurred at about 8:25 AM on April 8, 2016. Postal Inspectors are seeking a suspect, who is depicted in the sketch above. "
TAKE NO ACTION TO APPREHEND ANY SUSPECTS YOURSELF
If you have any information about this incident please contact the U.S. Postal Inspection Service at 1-877-876-2456
Report Now