Seeking Information About an Ongoing Investigation in Smith ...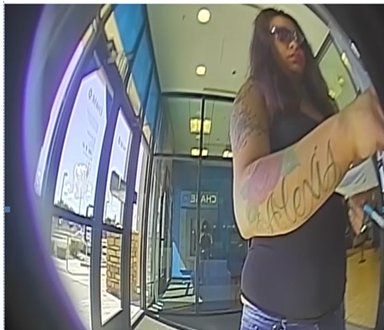 Reward up to $1,000
The U.S. Postal Inspection Service is attempting to identify the female in the above photo. The female is considered an investigative lead in an on-going mail theft investigation. Postal Inspectors are offering a reward of up to $1000 for information on the female's identity. A check, stolen from the mail near N. 16th Street and Oak in Phoenix, was deposited into an unidentified account at a bank near 24th Street and Baseline. The female is described as: SUSPECT – Hispanic/White female, 30 – 40 years-old, dark hair, with a tattoo of a red rose and the name "Alexis" or "Alexia" on her right forearm.
TAKE NO ACTION TO APPREHEND THIS PERSON YOURSELF
If you have any information about this incident, please contact the U.S. Postal Inspection Service at 1-877-876-2455 and ask for "Representative" at the prompt.
Report Now