John Dada for Possession of 15 or More Access Devices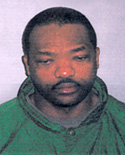 Wanted
John Olusegun Dada
1401401-IMT
06/18/1961
None Available
John O. Sampson, Tony Williams, Jerry Dunbar, Albert Haskell, Gregory Henwood, Bradford Porter
Black male, 5'10", 190 lbs., brown hair, brown eyes.
18 USC 1029(a)(3), Possession of 15 or more access devices.
None Available
993532DA4
Central District of California warrant, case #CR07-00164
"CII No. A08019199. Additional warrants: Cook County Illinois Sheriff's Department for 720 ILCS 5.0/17-3, Forgery. Central District of California, 8 USC 1326, Alien found in the United States following deportation."
TAKE NO ACTION TO APPREHEND THIS PERSON YOURSELF
If located, please call the U.S. Postal Inspection Service at 1-877-876-2455 (press 2).
Report Now