Faisal Alshibani for Posession of Child Pornography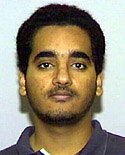 Wanted
Faisal Alshibani
0675-1331107-CE(1)
06/08/1980
Riyadh, Saudi Arabia
Al-Shibani
Middle Eastern male, 5' 10", 190 lbs., brown hair, brown eyes.
Possession of child pornography, 18 USC 2252A.
None
01-0492-CR-King, 5/18/01, Florida
Suspect born in Riyadh, Saudi Arabia. Believed to have returned to Saudi Arabia. Was in U.S. on student visa while attending the University of Miami when he fled.
TAKE NO ACTION TO APPREHEND THIS PERSON YOURSELF
If located, please call the U.S. Postal Inspection Service at 1-877-876-2455 (press 2).
Report Now