Fred Wilson for Conspiracy and Distribution of Cocaine and H...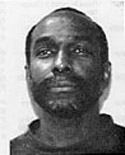 Wanted
Fred Wilson
683-1158588-PMN(1)
11/04/1943
Louisiana
Butch, Robert Beecham Scott
Black male with medium complexion, receding and close-cropped black hair, brown eyes, 5' 11", 175 lbs., scar on right knee.
Conspiracy and distribution of cocaine and heroin via the U.S. Mail, 21 USC 846 and 21 USC 841(A)(1)
W872937922
564333D
95-80485; 06/22/95; Detroit, Michigan
Armed and dangerous. Carries a 9mm pistol.
TAKE NO ACTION TO APPREHEND THIS PERSON YOURSELF
If located, please call the U.S. Postal Inspection Service at 1-877-876-2455 (press 2).
Report Now